Easy Blueberry Pancakes – Hot off the Griddle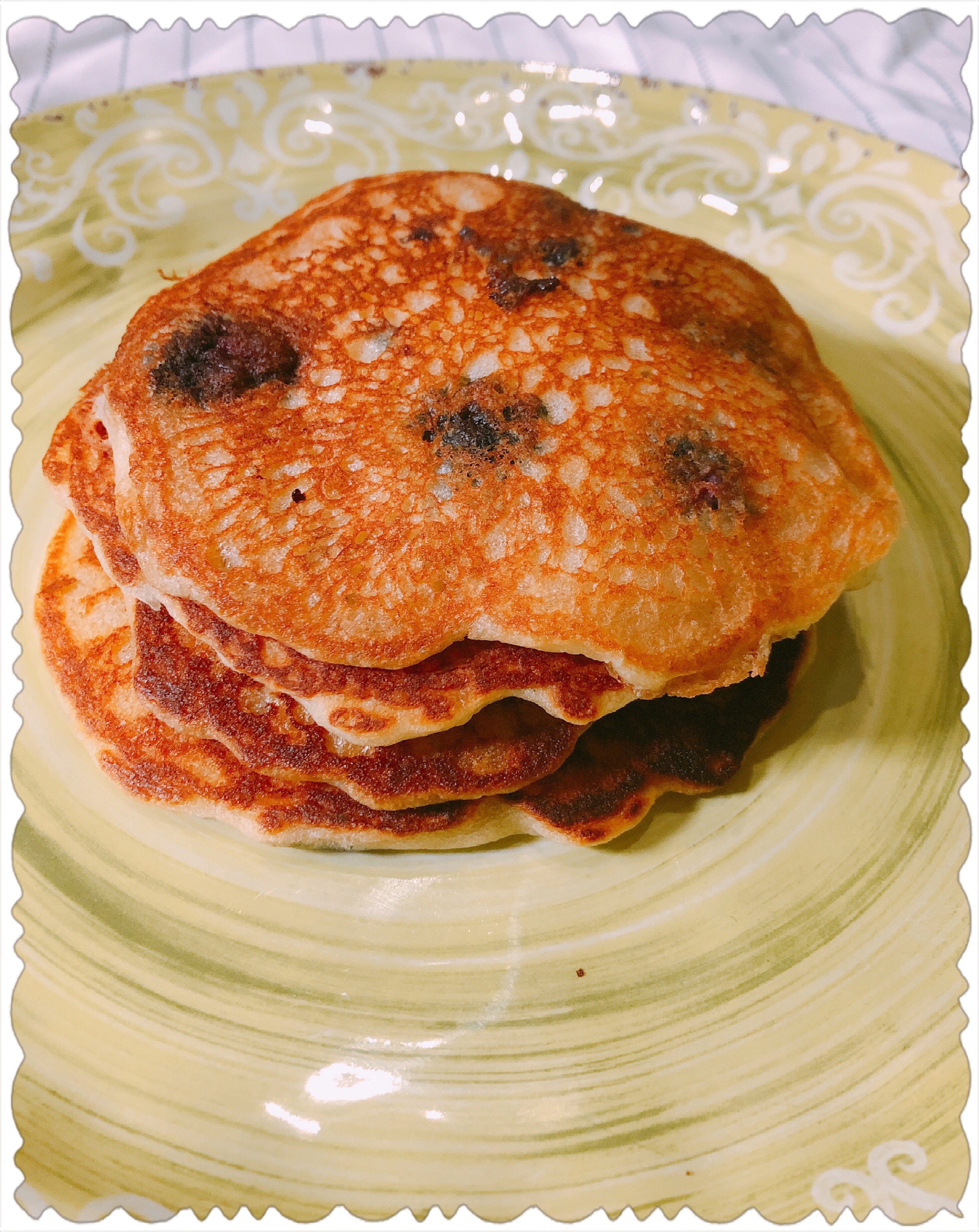 Super Easy Blueberry Pancakes
These blueberry pancakes are so easy a 13-year old can make them…literally. I use a mixing bowl, a whisk, a spatula and a cast iron griddle that my Uncle Lonnie gave us for Christmas. Since we have a gas stove I can make 3 pancakes at a time on that griddle! Before we got the griddle I made pancakes in a cast iron pan, one at a time. I like crispy edges on fluffy pancakes which can only be achieved on a good griddle.
By the way, my pancake batter recipe only calls for 7 basic ingredients. You can really use any fruit of your choice. As a matter of fact we just had the Florida Strawberry Festival here and we bought a huge flat of strawberries and we made strawberry pancakes using the same easy pancake batter recipe. I'm also a huge fan of chocolate chip pancakes. My parents like to make macadamia nut pancakes. The pancake batter is super easy so throw in what you like. My favorite are blueberry pancakes.

Blueberry Season
So, every year here in Florida in the Spring we have U-Pick Blueberries. At the end of blueberry season, you go to a blueberry farm, walk around and enjoy the Florida Spring weather. Depending on the farm, you pay by the pound or bucket. Just as we have a famous Strawberry Festival we also have a Blueberry Festival in Tampa Bay. Last year my Mami went blueberry picking at Starkey Blueberry Farm outside of Tampa with her friend Rachel and her shih tzu, Mocha Coconut. Mami came home with a bag of blueberries that we used in a couple of smoothies and I made a batch of easy blueberry pancakes. Just one batch for breakfast. She said that they must have missed the "good weekend" to go berry picking. She paid by the pound.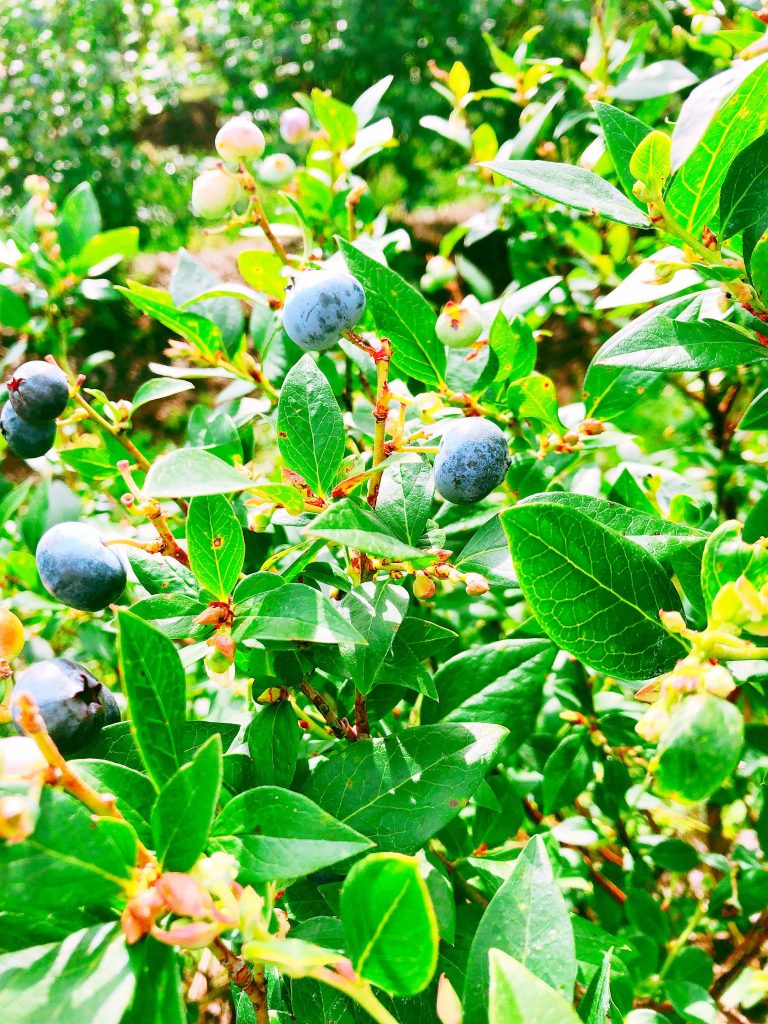 My Grandma Linda came to visit in June and brought us a whole cooler full of blueberries. She picked them at Beulah Berries in Pensacola, FL. Since it's a bit cooler in the panhandle the season starts and ends later there. Apparently U-Pick blueberries are a lot cheaper in the panhandle too based on the bounty Grandma Linda produced in comparison to Mami's. LOL. I've been making batch after batch of blueberry pancakes ever since. Grandma paid by the bucket.
So, we keep fresh blueberries frozen until we are ready to use them. Almost a year later we still have a few freezer bags of blueberries left. We use blueberries in everything from salads, smoothies, dessert toppings to eating them plain. My favorite way to eat blueberries is in a blueberry pancake.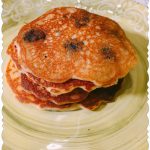 Print Recipe
Easy Blueberry Pancakes
Super easy blueberry pancakes with a batter made of only 7 ingredients. Add in blueberries or any mix in you desire. This batter is perfect for any fruit, berry, nuts, chocolate, white chocolate, you name it.

Ingredients
1

cup

All Purpose Four

Feel Free to use Whole Wheat

2

tbsp

Sugar

2

tbsp

Baking Powder

1

tsp

Salt

1

large

Beaten Egg

1

cup

Milk

2

tbsp

Butter or Oil

1

cup

Blueberries

Frozen is Fine – no need to thaw
Instructions
For best results (crispy edges) use a cast iron griddle or pan. These can be made in any skillet. Grease the pan with cooking spray, butter or oil. Turn your heat to medium high.


Add all dry ingredients (Flour, Baking Powder, Sugar, Salt) in a mixing bowl and whisk.


Create a well with the back of your whisk or a spoon in the middle of the bowl.


Crack the egg beat and pour into the well. Or crack egg into well and beat egg just in the middle of the well.


Pour in your milk.


Pour in melted butter or oil.


Whisk until you have a batter. Be careful not to over mix.


Pour in blueberries. If using frozen no need to thaw as the griddle will cook them. Feel free to use any fruit, berry, nuts, chocolate etc. This batter works for any mix in you desire. Whisk berries in lightly.


Pour 1/4 cup of mix onto your pan or griddle.


Once the top of the pancake shows bubbles all over flip it over. It should only take about 1 minute per side depending how hot your pan is.


After the first pancake (which usually isn't the prettiest) you will want to lower your heat down to about medium low. The pan should retain the heat and make evenly cooked and evenly colored pancakes.


Stack and serve with your favorite syrup or topping.

Video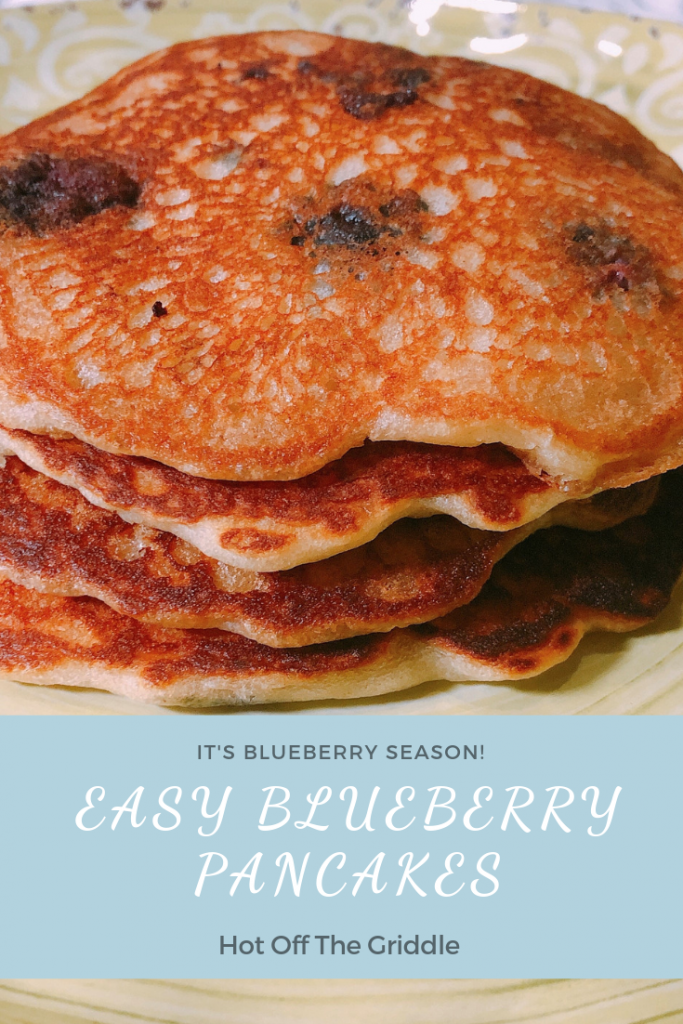 ---
---