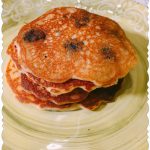 Print Recipe
Easy Blueberry Pancakes
Super easy blueberry pancakes with a batter made of only 7 ingredients. Add in blueberries or any mix in you desire. This batter is perfect for any fruit, berry, nuts, chocolate, white chocolate, you name it.

1

cup

All Purpose Four

Feel Free to use Whole Wheat

2

tbsp

Sugar

2

tbsp

Baking Powder

1

tsp

Salt

1

large

Beaten Egg

1

cup

Milk

2

tbsp

Butter or Oil

1

cup

Blueberries

Frozen is Fine - no need to thaw
For best results (crispy edges) use a cast iron griddle or pan. These can be made in any skillet. Grease the pan with cooking spray, butter or oil. Turn your heat to medium high.


Add all dry ingredients (Flour, Baking Powder, Sugar, Salt) in a mixing bowl and whisk.


Create a well with the back of your whisk or a spoon in the middle of the bowl.


Crack the egg beat and pour into the well. Or crack egg into well and beat egg just in the middle of the well.


Pour in your milk.


Pour in melted butter or oil.


Whisk until you have a batter. Be careful not to over mix.


Pour in blueberries. If using frozen no need to thaw as the griddle will cook them. Feel free to use any fruit, berry, nuts, chocolate etc. This batter works for any mix in you desire. Whisk berries in lightly.


Pour 1/4 cup of mix onto your pan or griddle.


Once the top of the pancake shows bubbles all over flip it over. It should only take about 1 minute per side depending how hot your pan is.


After the first pancake (which usually isn't the prettiest) you will want to lower your heat down to about medium low. The pan should retain the heat and make evenly cooked and evenly colored pancakes.


Stack and serve with your favorite syrup or topping.