Mac 'n Dog – Mac and Cheese with Hot Dogs / Sausages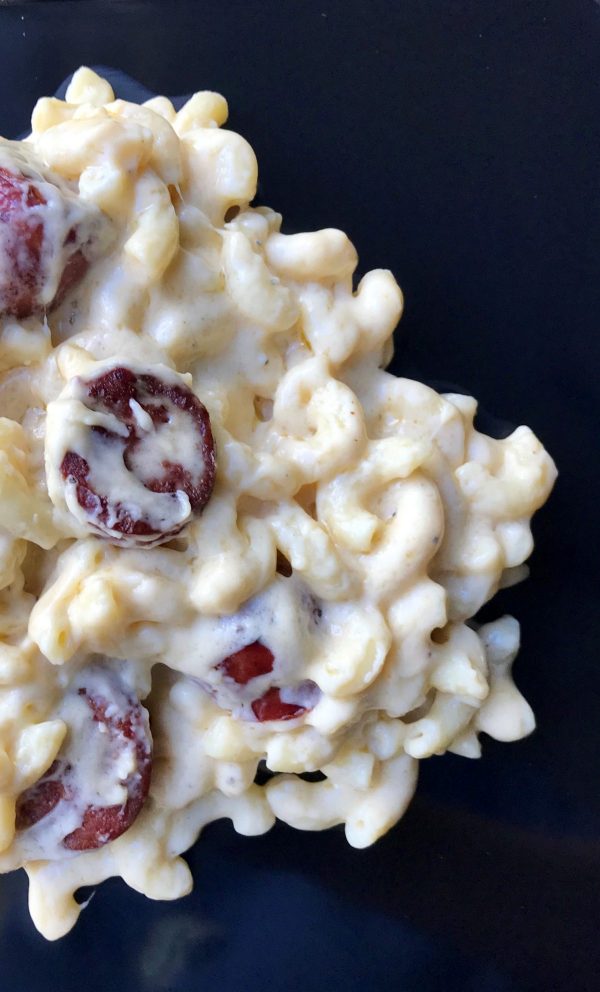 I love mac and cheese.
If I see macaroni and cheese on a menu I'll usually order it. God forbid my mom makes a Thanksgiving dinner and the mac and cheese isn't included. Well, that has not actually happened, but she knows better than to make only one pan. It's the first dish we run out of during the holidays. I probably love it more than anyone in the family. For some reason she only makes it on occasion, so I learned her recipe. I want mac and cheese all the time. I like all types of mac and cheese, but my favorite way to cook it is with hot dogs. Add a salad and you have a full meal. (Don't forget to eat your veggies).
FYI
A couple of items I'd like to point out about this recipe:
This recipe works well as a stove top mac and cheese. I figured that out because I couldn't wait to eat it one day, so I skipped putting it in the oven.
You can also pour the cheesy dog combination into a casserole dish and bake it for 20 min at 350 degrees. If you don't add the hot dogs to the dish, it's basically my mom's macaroni and cheese casserole.
In the video demo I actually make mac 'n dog with beef sausages. You can add any type of protein you like or leave the meat out.
The key to the perfect cheese sauce isn't the cheese. It's the bechamel sauce. Bechamel is the base, so if it tastes good, your mac and cheese will taste good.
Use real butter. Never use margarine. It isn't better for you. Real is always better.
You can use more or less milk to make it the consistency you prefer.
Make this with real cheese! Not out of powdered cheese or cheese sauce.
You can use any cheese you like. I always start with sharp cheddar and I like to add in 1 or 2 special cheeses. In the video I use gruyere, but I've used asiago, parmesan, monterey jack, colby, you name it.
Some people like breadcrumbs on top of their mac and cheese, but I don't like it that way. Not even in the oven. Feel free to add breadcrumbs if you want to.
Give it your own twist.
I want to encourage you to get creative with this dish. Add in whatever meat, cheese or topping you like. Once you get a hang of making the bechamel sauce the sky is the limit.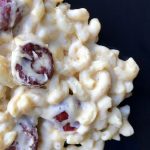 Print Recipe
Mac N Dog
This is my favorite version of Mac n cheese. I call it Mac n Dog, which is basically macaroni with hot dog... but in the featured video I chose to switch it up and I made it with beef sausages instead. Mac n Dog is one of the dishes I love to eat. Hope you enjoy my recipe.
Ingredients
16

Oz

Elbow Macaroni

6

Cups

Water

To boil Elbow Macaroni

1

tbsp

Salt

To salt boiling water - I like pink himalayan or kosher

3

Large

Sausage Links

Any Type of Sausage or 5 Regular Hot Dogs

1

Stick

Butter

6

tbsp

Flour

2

Cups

Milk

1

tbsp

Mustard Powder

1

tsp

Black Pepper

1

Cup

Sharp Cheddar Cheese

1

Cup

Any other favorite cheese (guyere, monterey jack, asiago, etc)
Instructions
In a stock pot boil Water. Once water is boiling add the Salt and Elbow Macaroni to the pot for about 5 minutes or until the macaroni is cooked to your liking. I like mine a little past aldente since this is stove top.


Cut the Sausage Links diagonally. Then put them in a pan on medium heat moving them around every 30 seconds for about 5 minutes or until all sides are browned. Remove the sausages from the pan. Do not remove the sausage oil.


Turn the heat down to medium-low and add the butter until melted, but do not brown.


As soon as the butter is melted add the remainder of the the dry ingredients: Flour, Mustard Powder & Black Pepper. Whisk constantly for about 2 minutes so the flour cooks.


Pour in the milk and whisk until the mixture becomes a creamy bechamel sauce. If the sauce is too thick you can add more milk. It all depends on how creamy you like your macaroni and cheese.


Turn off the heat when the sauce is the desired consistency. Sprinkle in the cheese. You may use more or less cheese based on your taste.


Once the mac is mixed well with the cheese, put the sausage and any remaining juices back into the pot and fold into the macaroni and cheese mixture.

Video
---
---