Curry Chicken – Caribbean Style with Coconut Milk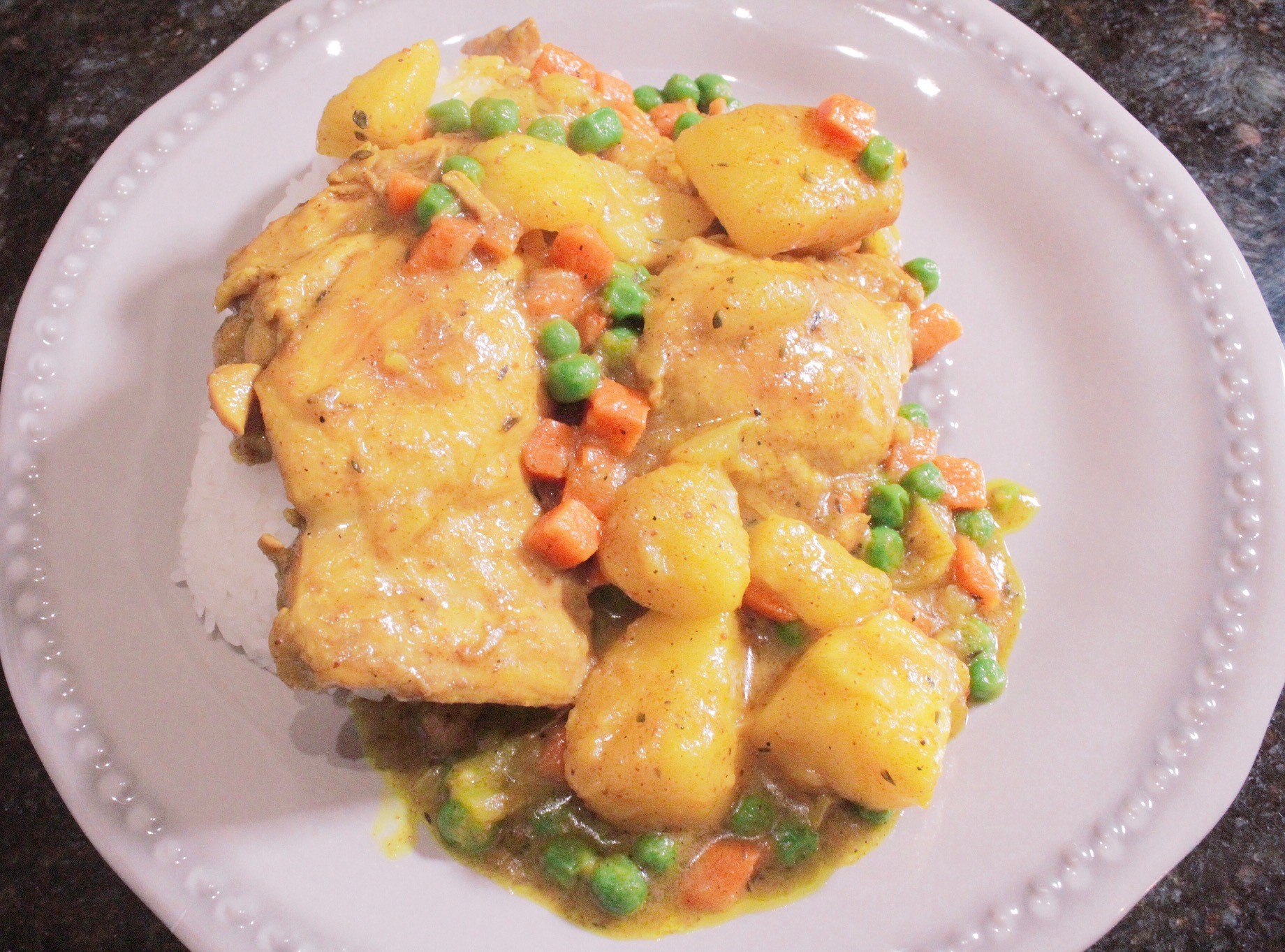 Curry Chicken Is My Favorite
One of my favorite meals is Curry Chicken. I love all types of curry dishes. As you may be aware curry tastes different everywhere you go. I have had Indian curries, Asian curry, West Indian or Caribbean curry. Within those cultures there are sub cultures that make curry differently. For example, our family has best friends that are Guyanese, so I have always known that West Indian curry tastes different than Jamaican curry. Thai curry tastes completely different than Filipino curry dishes I've had. Filipino curry is influenced a lot by Indonesian culture, which is influenced by Indian flavors. Well, all curry is influenced by Indian curry.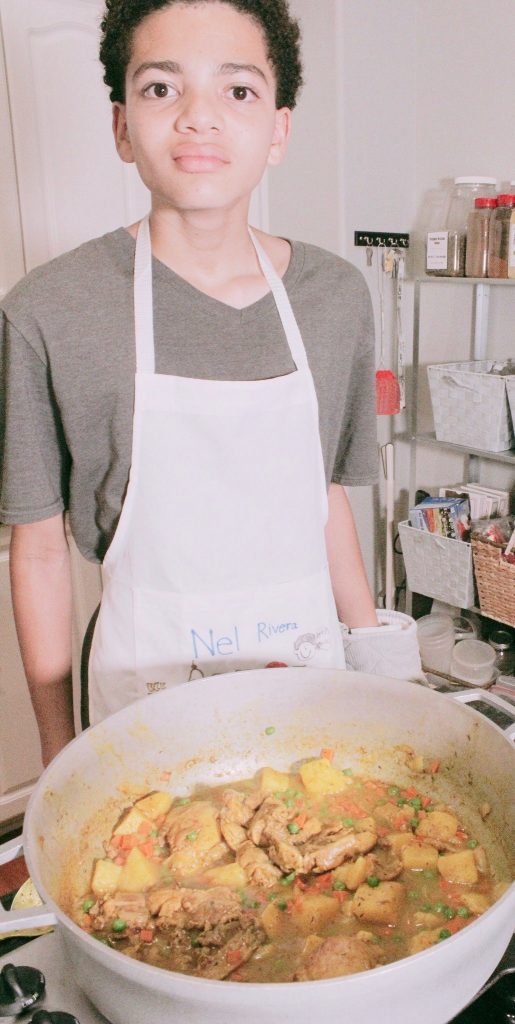 My mom always made a version of curry chicken that is extremely delicious. I want to say my mom's chicken curry is more Caribbean than anything, but because we are a multicultural family I want to say that she uses Asian influence in her curry at times as well. To be honest, my mom will make a version that is different than the last because she uses what we have on hand. The way she taught me to make a curry dish might be sacrilegious to any of the cultures that are known for curry.
Coconut Milk in Curry Chicken?
I will eat any curry, but if I had to choose I think I like Caribbean curries the best. I also prefer curry chicken with coconut milk. My Guyanese and Trinidadian friends may frown upon it, but the coconut milk makes the curry rich and creamy. It's perfect over rice. Hey, I like roti too, but at home I eat my curry with rice. One of these days I'll share a Curry Goat tutorial. That recipe uses no coconut milk. Red meat curries are better without coconut milk. Coconut milk seems to go better with chicken, fish or any other seafood.
Switch It Up
I experiment with different curry powder brands. My mother went to Jamaica and brought home EasiSpice curry, which she says is a favorite on the island. She also goes to the West Indian grocery and buys Chief brand curry and masala. We almost always use Chief brand when making Curry Goat, but I've used it for chicken and it's just fine. When we get Indian curry my mom usually sticks to garam masala and she always gets different brands. There are so many different styles of curry powder based on the type of dish.
You can also use whatever veggies you like, or none at all. Peas and carrots are what my mom usually threw in, so that's my favorite vegetable combination to put in curry chicken. She has also made it with Bell Peppers (green and red). You will rarely see West Indian curry with veggies in it. I know my mom grew up eating Pinoy style curries. Filipinos like putting different vegetables in curry dishes and the peas and carrots influence comes from golden beef curry dishes.
I always like my curry with onions and potatoes, however, when my mom went low-carb on a Keto diet she cut the potatoes out and she ate it without rice. You can do the same if you have low carb diet restrictions.
FYI
In the video tutorial I actually show 3 different types of curry powder that I had on hand when I list out the ingredients, but I only used one (EasiSpice). I also used EasiSpice chicken seasoning. Since I had this seasoning I didn't have to use a lot of the spices that I would normally put in separately.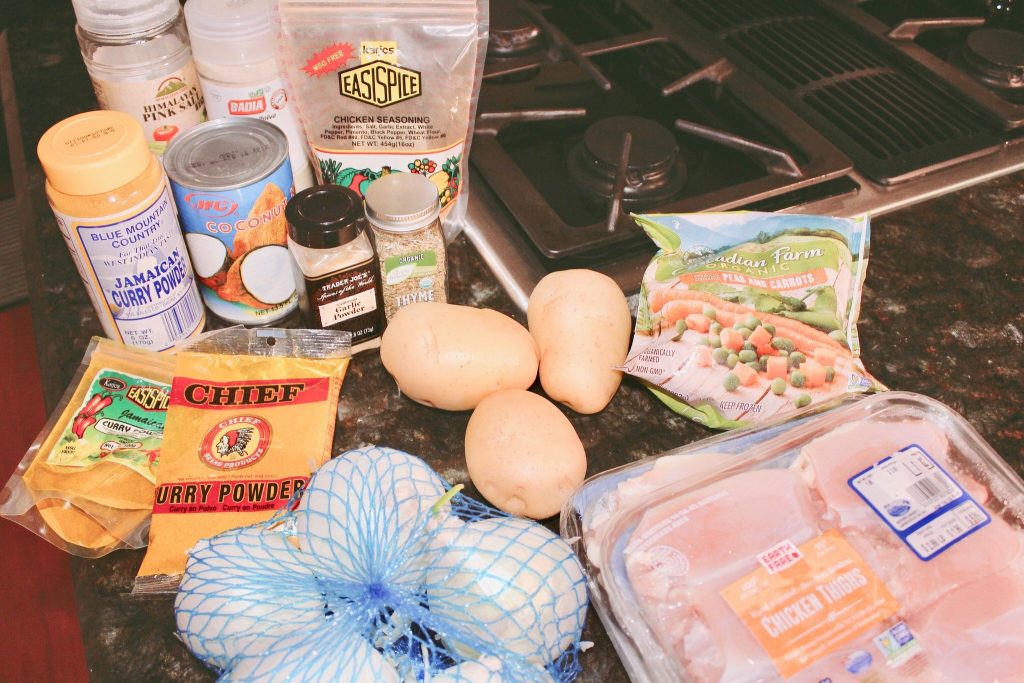 I also want to note that I used boneless chicken. My mom prefers to cook with bone in chicken. She says that bones make the "broth" tastier. It's true, but you have to add a little more cooking time when you have anything bone in. My dad and I prefer no bones, well, just because it's easier to eat faster! Also note that I'm using chicken thighs witch is dark meat. My mom will sometimes cut up a whole chicken, but if she buys a pack of chicken she prefers all dark. She says dark meat is healthier for you, contrary to popular belief and it tastes better. If you prefer white meat try not to overcook as it gets dry fast. Honestly, with curry, your meat is always flavorful so it's hard to go wrong with overcooking…unless you burn it.
Another note: People from the Islands always wash their chicken in citrus like lime juice, lemon juice and/or vinegar. There are different schools of thought on whether or not it is needed. We always keep a large bottle of Florida Key West Key Lime Juice in our refrigerator for marinating, adding flavor to chicken, fish and pasta dishes, but we also use it to clean our meats.
Make This Chicken Curry Dinner Tonight!
Once I learned how to make this dish, I'm the only one in the house that cooks curry while my mom and dad (and sisters) relax. The family says I'm the "curry master." Well, try the recipe and you be the judge.
Print Recipe
Coconut Curry Chicken
A delicious and easy to make caribbean coconut curry chicken dish!

Ingredients
1-2

Pounds

Boneless Chicken Thighs

Add an extra 10 minutes to cook time for bone in thighs

2

tbsp

Curry Powder

1

medium-large

Onion

3

medium

Potatoes

1

13.5 Oz Can

Coconut Milk

1

tbsp

Garlic Powder

Omit if have Caribbean Chicken Seasoning

1

tbsp

Allspice

Omit if have Caribbean Chicken Seasoning

1

tbsp

Onion Powder

Omit if have Caribbean Chicken Seasoning

1

tbsp

Thyme

1

tsp

Black Pepper

Omit if have Caribbean Chicken Seasoning

1

tsp

White Pepper

Omit if have Caribbean Chicken Seasoning

1-3

tsp

Cayenne Pepper or 1 Scotch Bonnett Pepper

Optional (For Spicy Curry)

1 1/2

cup

Florida Key West Key Lime Juice

can use lemon juice or vinegar for washing chicken

3

tbsp

Oil (grapeseed, coconut oil or ghee)

10

oz

package of frozen peas and carrots
Instructions
Empty chicken into a bowl and pour Florida Key West Key Lime Juice over the chicken. Ensure all of the chicken is coated in the key lime juice and fill the bowl with water. Move the chicken around in the water lime mixture then pour the water out and rinse the chicken with clean cold water. Now your chicken is clean and ready for seasoning.


Sprinkle all of the spices (not the curry) onto the chicken ensuring that the seasoning mixture is rubbed into the chicken well. Put the chicken aside as you prep the potatoes and onions.


Cut potatoes into bite sized cubes and put aside.


Rough chop your onion.


Add the oil coating the bottom of your pot.


Turn the stove on to medium high heat.


Add Curry Powder to pot and mix into the oil until simmering.


Add chicken pieces to the pot and wait 2 minutes. Flip the chicken and wait another 2 minutes.


Add onions and stir ensuring the onions are covered in curry.


Add 1 cup of water.


Add the potatoes and stir ensuring the potatoes are covered in curry.


Cover the pot and turn the heat down to medium low. Wait 5 minutes.


Add coconut milk stir, cover the pot. Wait 5 minutes.


Check the potatoes to ensure they are tender. If they are not tender give it more time to simmer.


Once the potatoes are tender you will notice that your curry sauce has also thickened.


Add the frozen peas and carrots to the pot and stir. The entire dish is done once the peas and carrots are warmed through, about 2-5 minutes depending on how frozen the veggies are. Turn off the heat and serve over rice.

Video
---
---